Improve your Intake with our Innovative Trash Racks
We have years of experience working around dams, reservoirs, irrigation systems and other water related facilities. We have searched hard for solutions for control debris at water intakes.

That is why we partnered with Hydro Component Systems LLC, the most experienced manufacturer of Trash Racks. They are the only manufacturer of Trash Racks that uses what they sell, every day.
Real world experience… That is how we describe Hydro Component Systems. Founded over 35 years ago, Hydro Component Systems started building trash racks at their own hydroelectric dams. Operators at these dams have tried all the different types of trash rack systems. Each system had its flaws that resulted in significant labor cost, large repair bills and lost generation. Today, Hydro Component Systems is the most dependable manufacturer of trash rake and trash rack systems. They truly do…use what they sell, every day.
---
---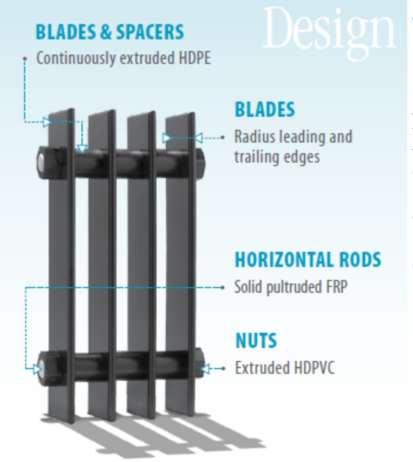 Hydro Component Systems Trash Racks

Ideal for use in a variety of environments and industries, HCS trash racks will help your company screen debris from your intake water. HCS trash racks prevent harmful debris from reaching your expensive equipment.

Continuously extruded HDPE trash racks are rust-and corrosion-free, lightweight and easy to clean. Unlike metal trash racks, HCS trash racks will never need recoating.
The racks feature radius leading and trailing edges, which reduce the resistance to the flow of water between the blades.
Ice resistant:
HCS trash rakes do not absorb water so do not allow frazil ice to adhere or anchor ice to form
Mussel Resistant:
The smooth finish and resists zebra and quagga mussel fouling. Any that do adhere can easily be brushed off during normal raking operations.

Additional features include:
Positive rake head engagement between trash rack blades
High impact strength
Easy to maintain
​Fully assembled and ready for installation when delivered
Learn more from our Trash Rack experts today>>>
---
What Do Our Customers Say About Hydro Component Systems Trash Racks?
Mike Pedersen, Kaukauna Utilities
Customer (Kaukauna, Wisconsin)

"HCS worked hand-in-hand with us to customize the trash rack and raker systems we purchased from them to fit our specific needs. With the great success of our plastic HCS trash rack test and HCS's outstanding customer service, support and responsiveness, Kaukauna Utilities is now buying two more plastic HCS trash racks for the Kaukauna City Plant. We know HCS will always be there to adapt to our needs."
Ron Kolb, DIVCON, LLC
Contractor (Owensboro, Kentucky)

"We needed to find a more dependable and long-lasting trash rack because the existing steel trash racks at the Alcoa power plant were deteriorating. The HCS trash racks will never rust or corrode or fall prey to marine growth fouling so we don't have to worry about costly
plant shutdowns. We purchased our first HCS trash rack last year and because of its flawless performance, we bought two more."
Dave Boyter, Symbiotics
Customer (Rigby, Idaho)

"With the many hydro power plants we manage across the United States, it's comforting to know that the same trash raker we're relying on in our hydro power plants, HCS is using as well. If that's not a guarantee, I don't know what is. We're currently talking with HCS about how their trash racks and rakers can help at our other hydro power plants across the country.
---